We are back! Sessions resume 10th September
We are now running sessions in Orchard Park (click here to see where) once a month. Please make sure you buy the right ticket!
Music Groups for parents, carers and their pre-schoolers.
Weekly sessions on Fridays 10-11am
10th September - Orchard Park
17th September - Girton
24th September - Girton
1st October - Girton
8th October - Orchard Park
15th October - Girton
22nd October - Girton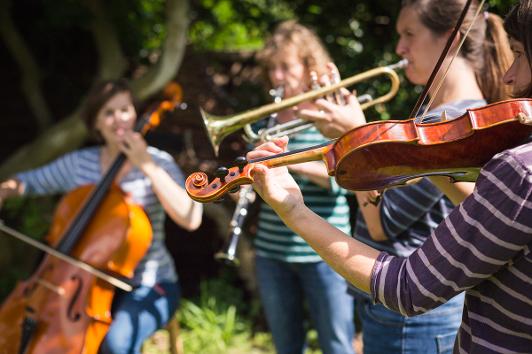 Sign up to our mailing list
Who We Are
We are a group of mums who love playing music together and for others. We have been running Shake Rattle and Roll now for over ten years and we still love it as much as ever. We each play several instruments and sing, and we choose music and songs to play at the group that we enjoy and that we hope you will too!
The Songs
We try and find some interesting (and sometimes challenging!) songs for you to sing, alongside some more familiar ones.. You may also be interested in buying one of our CDs
What to Expect
We play a mixture of familiar and lesser known songs on real instruments while you and your baby/child sing along! We try to get you up and moving at least once a session giving you a chance to learn and try out some dance moves with your child - it could be anything from jigs to jives! The music is for you too and you can expect to hear anything from Bowie to Baroque and from Chopin to Chas n Dave! We love it all and hope you will too! The idea is that you enjoy the music and then hopefully your child will too! Please take a look at our testimonies above for some of the feedback we have received from the sessions
What Our Regulars Say:
"We love having a good old sing and dance, it's fantastic to hear Beth's squeals of delight and watch her enjoying the music. I always come away feeling that those 45 minutes have been truly great for my soul and hers!"
"Shake, Rattle and Roll: it's weekly music therapy for us all!" Rosie, Hugo (3) and Cosima (1)
"How wonderful for children and adults alike to experience a live band." Sue (61) Wilf (4) Theo (1)
"Amazing! a room full of toddlers with shakers and they manage to make it sound good! We love Shake, Rattle and Roll!" Alex and Torrin (2)
"Lovely happy place for 2 lively little monkeys"
"All 3 of my children have loved the diversity and uniqueness Shake, Rattle and Roll's live music - as do I! I'm sure watching the talented musicians was the inspiration for my eldest daughter to start playing the "violin" with a toy broom and cricket bat! (She's now 7 and plays the real violin!)
"The chance for Mum, Dad and children to dance together to great tunes and no obligation to pay when you can't come along. Beats a dance class any day!" Rachel and Rosa (3)
"Shake, Rattle and Roll is the highlight of my week. It's a place, where I can meet new people and make friendships. It is such a treat to have live instruments. There is something for the parents and children alike - the music selection is absolute feel-good. My son sings their songs all week!"
"The best place to boogie for me and Samarth together"
"We have made some good friends in these years at SRR. I would highly recommend it for music and dance lovers to come along and join in the festivities."
Band photos copyright Alice Chapman